Study to shew thyself approved unto God, a workman that needeth not to be ashamed, rightly dividing the word of truth.
One of our children's ministries at Liberty, AWANA, is an acronym for Approved Workmen Are Not Ashamed, derived from 2 Timothy 2:15
AWANA is a fun-filled program for children newborn through 6th grade on Wednesday evenings. We also offer Radiate for students in grades 7–12 at this time. In these programs, kids develop life-long Bible knowledge, memorize Scripture verses, and learn to apply God's truth to their lives.
AWANA Clubs exists to reach children and teenagers with the gospel of Jesus Christ, to equip them to honor God, to grow them in their faith, and to challenge them to fulfill the Great Commission. We believe one of the most important gifts we can give to the next generation is a deep and lasting knowledge of God's Word. AWANA is designed to help parents cultivate that in the lives of our kids through an exciting, weekly experience where fun and learning go hand in hand.
AWANA impacts and shapes the lives of millions of kids and adults worldwide through proven resources and expertise that help churches and families develop lifelong disciples of Christ.
T&T® engages upper elementary (4th-6th grade) children by answering their questions about God and the Bible, guiding them through this pivotal life stage to grow in Christ's grace.
Sparks® ignites the curiosity of early elementary (1st-3rd grade) children to learn about the people and events of the Bible, building a foundation of wisdom for knowing Christ.
Cubbies®celebrates the spiritual potential of preschoolers (3-5 years old) by helping them to develop respect for God, His Son and His Word.
Puggles®recognizes the learning ability of nursery age children by introducing biblical precepts at church and equipping parents to teach them at home. Toddlers love having their very own AWANA club just like their older siblings. They will go directly to the nursery when they arrive, and will be picked up there as well.
No matter how old they are or where they live, all children need the life-altering hope found in Jesus.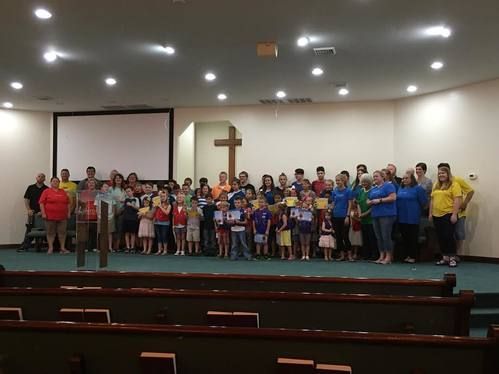 What does a typical AWANA Club meeting look like?
The purpose of the Opening Ceremony is to bring clubbers together at the beginning of the evening. It consists of songs, prayer, and lots of excitement!
Game Time is a highly charged and fast moving time of recreation and competition, supervised diligently and capably by our trained staff. It provides structured fun that interests kids, but also teaches them the value of teamwork and acceptance.
Handbook Time is devoted to scripture memorization, explanation, and learning. Leaders provide one-on-one time with the clubbers answering their questions and listening.
Council time is a worship experience and presentation of the Bible appropriate to the needs of children, and includes a Bible-themed message to the clubbers.
Awards Time & Closing Ceremony
This is the time of each night when AWANA clubbers receive the awards they earned for the week, as well as a time to get excited about what God is doing before we send everyone home with their parents/guardians.
When do AWANA Clubs meet?